SERVICES INCLUDED IN WINTER MAINTENANCE
Our team of professionals is ready to meet your expectations of carefree and safe spending of cold, rainy or snowy days inherent to winter seasons.
Our offer includes autumn and winter maintenance of exterior areas of administrative and multifunctional buildings, department stores, business centres, houses as well as roads such as sidewalks, parking lots, warehouses, public spaces, etc .. Based on the client´s requirements, current weather situation and favourable conditions for winter or autumn maintenance, we perform the activities listed below.
REMOVAL
AND DISPOSAL
OF WASTE LEAVES
Regular cleaning of fallen leaves and its subsequent disposal is a prerequisite to clean sidewalks and alleys, which prevents pedestrians from slipping on gloomy winter and rainy days. We use vacuum cleaners to pick the leaves to be further loaded on vehicles and transported to the companies dealing with the disposal of BIO waste. All of these works are performed with no or minimum inconvenience caused to the inhabitants of the respective housing estates and family houses.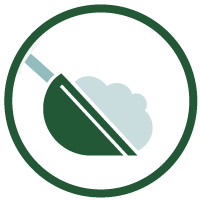 MANUAL
REMOVAL
OF SNOW
This is one of the most widespread winter maintenance activities. It is performed with use of classic hand tools (shovels, brooms, scrapers, etc.). We do not annoy the affected citizens with noise during the night and early morning hours, or during sport activities.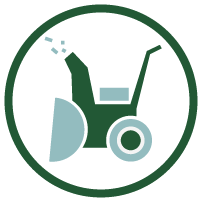 REMOVAL
OF SNOW
WITH USE
OF LIGHT MECHANISMS
Depending on the intensity of snowfall, the height of the current snow layer and other weather conditions (e.g. wind), we proceed to the use of light mechanisms. Removal of snow from paved surfaces is performed mechanically by plowing and milling. By plowing the snow from paved areas, we remove snow, snow slurry, etc., while the height of the snow mass does not exceed 3 cm under normal conditions of winter maintenance. In cases when the layer of snow exceeds 10 cm in height, or when snowdrifts appear and the performance of snow plows is not sufficient, we use snow blowers.
TREATING AREAS
WITH ECOLOGICAL
SANDING MATERIALS
The ecological aspect of the already mentioned activities is a priority respected in our company, also with respect to our main activity (implementation of gardens and irrigation systems for owners of private gardens and for large corporate companies). Performing winter maintenance, we use ecological sanding materials, harmless to nature, paved surfaces, vehicles, footwear and, above all, safe for the paws of our four-legged pets. At the end of the winter season, the sanding material is incorporated into the lawn as a soil conditioner.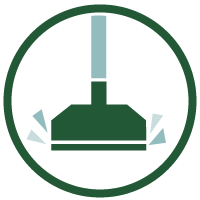 TREATMENT
OF SLIPPERY
SURFACES
As the efficiency of ecological sanding materials decreases at any temperature lower than -10 ° C, sanding of paved surfaces is supplemented by manual chopping and scraping of frozen surfaces.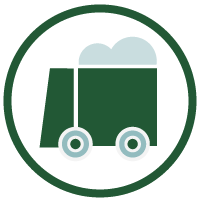 REMOVAL
OF EXCESSIVE
SNOW MASS
We provide winter maintenance to the full satisfaction of our clients while we do our best to limit the client at little as possible. Therefore, in the event of an increase in snow fall and a problem with its further handling and storage, we take the excessive snow mass to specialized landfills.
IF YOU ARE INTERESTED IN ANY OF OUR SERVICES, PLEASE CONTACT US